The following are the only bags permitted into the Superdome:
Bags that are clear plastic, vinyl or PVC and do not exceed 12" x 6" x 12"
One-gallon clear plastic bags (Ziploc bag or similar).
Small clutch bags no larger than 4.5" x 6.5" with or without a handle or strap
Diaper bags must comply with the NFL's clear bag policy
An exception will be made for medically necessary items after proper inspection and tagging.
NOTE: The following bags are not permitted:
Clear backpacks
Clear fanny packs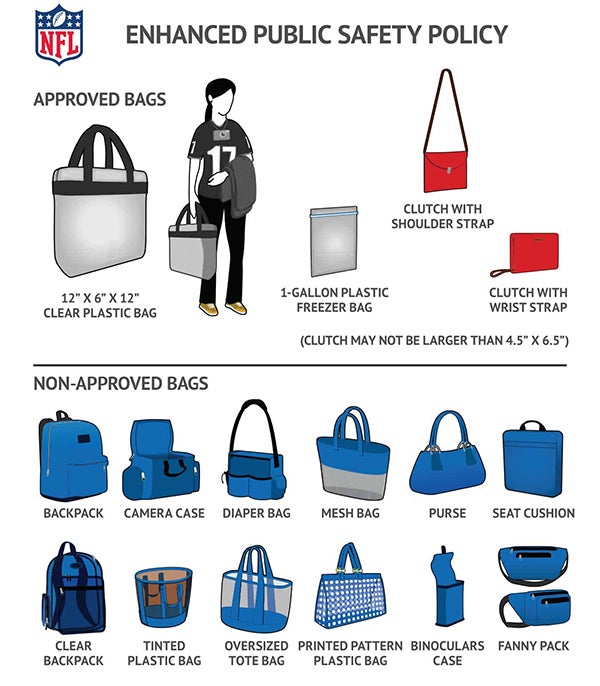 Non-clear diaper bags are prohibited. A clear diaper bag (no larger than 12" X 6" X 12") is permitted. Each member of a family, including children, would be allowed to carry an approved clear bag and a clutch purse into the stadium.
For more information on the NFL Clear Bag Policy click here.
Please visit your event description page to determine if a non-NFL event has a clear bag policy in effect.
Walk Through Metal Detectors
The Superdome uses walk-through metal detectors at all entry gates to enhance safety and security.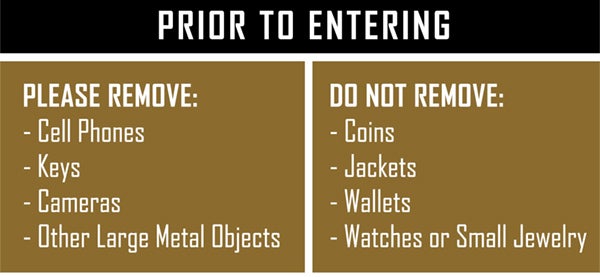 Please have all approved clear bags open and ready for screening. Express lanes are available at all entrances for guest without bags.
The State of Louisiana bans the possession of guns on the premises.
PARKING POLICY — NFL VEHICLE SCREENING
*Please have face covering on prior to approaching the vehicle screening.
Due to increased security measures at all NFL stadiums, vehicles parking in certain areas of the Superdome parking garages will be subject to security screenings at every Saints home game. ASM Global implements enhanced vehicle screening of all vehicles that pass through and park within close proximity of the building. Enhanced vehicle screening consist of an EOD canine sweep. All EOD canine searches will take place outside of the parking garages prior to entry.

Only vehicles parking within close proximity to the stadium will be subject to the enhanced EOD canine search. This would include guests who are parking in the A, B, and C lanes of the Superdome. To assist with traffic ingress, any guests with D, E, or F parking placards will be directed to the second entrance of each garage to bypass the vehicle screening. These vehicles will be directed around the enhanced vehicle screening.

All vehicles that need screening will have parking placards, which clearly designate the need for enhanced screening. These vehicles will have a yellow star on the right hand corner of their placard. The guest's parking placard also has language on the bottom of their pass, which reads, "Vehicle is subject to screening by security upon entry."

The safety of our fans, players and employees is our highest priority. If you have any questions or concerns, please contact the New Orleans Saints service department at (504) 731-1700.

For more information and a video tutorial on the new screening process, please visit https://www.neworleanssaints.com/parking.